Colorado Water Testing Information
Denver, Boulder, Thornton, Arvada, Wheatridge & Surrounding Areas in Colorado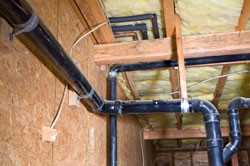 Although the United States generally has one of the safest water supplies in the entire world, the quality and safety of water varies quite a bit in different states, cities, neighborhoods, and even between houses.
At the moment, the EPA doesn't't regulate private wells, which means if your drinking water comes from your own well, you may be ingesting harmful contaminants. If your water comes from a public source, your community water supplier is required to provide you with a report on the safety and quality of your drinking water.
If you are concerned about the health and safety of the people in your home, it's important that you schedule a professional water analysis and inspection from Colorado Pro Inspect. We've encountered many different qualities of drinking water and we can help you determine if you are putting yourself at risk for any water hazards.
To help you better understand the importance of water quality analysis from Colorado Pro Inspect, we've provided you with some frequently asked water analysis questions:
Where does my drinking water come from?
Depending on where you live, your drinking water may come from a variety of sources. Drinking water may originally come from lakes, rivers, or dams, and the travel to a water purification center where it is cleaned and run to your home. One of the most important things to realize that regardless of where exactly your water comes from, it all must come from your local watershed or aquifer. Whether your water is obtained through a well and is purified at your home, or through a city or neighborhood purification system, it can be difficult to completely rid your water of all contaminants.
What contaminants could be in my drinking water?
What many people don't realize is that there can never be a natural, completely pure, source of water. Whether it has flowed in a river, sat in a lake, or filtered through rock and soil, all water contains some impurities. May of these impurities are completely harmless, but others can cause health problems, especially if they are manmade chemicals, bacteria, minerals, or unnatural contaminants. To find out if there are any health risks in your drinking water, you should contact a professional to schedule a home water inspection and analysis.
How is my drinking water treated before it gets to my home?
In general, once water has been taken from it's original source, it flows through very fine filters that removes dirt, larger contaminants, and many bacteria that may be present in the water. If the water is pumped directly from an aquifer through a well, it may not need any of this treatment because it has not come in contact with surface contaminants. Once it has been filtered, most water suppliers and a disinfectant such as chlorine or other chemical to kill all the most harmful bacteria and germs.
What if I have special health needs?
People with weakened immune systems as a result of chemotherapy, steroids, or HIV/AIDS can be more susceptible to bacteria and germs in drinking water that can make them sick. In addition to these people, very young children are often more at risk for sicknesses developed from drinking water. If you or someone you know falls into one of these categories, your should speak directly to your water supplier or health care provider to determine if you should taking additional steps to purify your water.
Who is responsible for the quality of my drinking water?
In general, the Environmental Protection Agency (EPA) sets the national standards for drinking water quality. The EPA makes sure that public water is subject to federal regulations. However, the EPA has no influence on the water obtained through private wells. Ultimately, the EPA merely sets guidelines for the water suppliers or local governments to follow, so it is their responsibility that the drinking water you receive is safe. To make sure that your water is safe for you and your family, contact a professional to schedule a certified home inspection water analysis.
What happens if someone violates a drinking water standard?
In addition to fines and penalties that must be paid by the water supplier for consistent violations, or for failing to treat water for a specific contaminant, the water supplier is required to send all people in contact with their water a notification of the contaminant they are potentially at risk for and how they should respond. Each annual repost published by the water suppliers must contain a summary of all violations and how they were handled.
To speak to a certified Colorado Home Inspector or to schedule a Home Inspection for your home, please contact Colorado Pro Inspect today. Evan J. Hughes is an InterNACHI Certified Colorado Home Inspector and will help you make an informed and educated decision on the purchase or sale of your new home.