Aluminum Wiring Information
Denver, Boulder, Thornton, Arvada, Wheatridge & Surrounding Areas in Colorado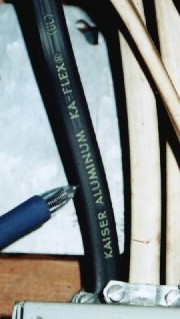 Aluminum conductor fact and myths
During the 1960's the price of Copper rose sharply due to acute shortages. The electrical industry elected to allow aluminum wiring for residential use.
Aluminum has very different properties to Copper it is a much softer metal, it oxidizes more readily and it suffers from greater expansion and contraction. It also has higher resistance to the flow of electrons along its length.
The later part we have already looked at Aluminum conductors need to be sized larger than Copper for any given amperage.
The CPSC has noted from researching causes of electrical fires that a home wired with Aluminum conductors is 55 times more likely to suffer an electrical fault resulting in fire.
What are the issues
Due to its softness, oxidization, and expansion/contraction. Aluminum wire tends to loosen up from its connectors.
This ONLY affects single strand Aluminum conductors that would be found on lower amperage branch circuits.
The signs of poor connectors on Aluminum wiring range from flickering lights to intermittent power failures at receptacles to overheating wires.
When was Aluminum used for branch circuits
Many homes built between 1965-1975 had single strand Aluminum wiring
The Aluminum alloy was changed in 1972 to a higher quality grade resulting in fewer problems but I would still recommend that any and all single strand branch wiring be properly evaluated by a licensed electrical contractor specializing in AL wire repair.
Repair Methods
Since the early 1970's several methods have been tried to improve the contact between Aluminum wire and junctions and receptacles. The biggest single issue is that it is very difficult for a contractor to know where all of the hidden junction boxes are in an older home.
Rewiring in Copper: This is obviously the best choice by far as it completely replaces the Aluminum branch circuit wiring. However this is very costly and disruptive.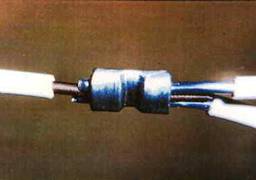 Pig-tailing Copper: A method many electricians tried was to pigtail a piece of Copper wire using a wire nut onto the Aluminum. There were even special Purple wire nuts produced with antioxidant paste in them designed for this application.
As you can See from the image on the right this repair did not work as intended as wire nuts are not able to overcome the expansion problems of Aluminum.
This is NOT considered an effective repair.
CO/ALR switches and receptacles:
These were designed to replace previous CO/AL receptacles as they had a higher quality conductor lug assembly. However this only addresses the issues of switches and outlets not connections in boxes.
This is NOT considered an effective repair.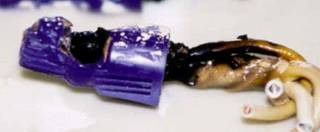 COPALUM connectors: These are the recommended upgrade for AL wiring.
A special crimp connector and crimping tool are used to pigtail a piece of Copper wire onto the Al conductor.
This is then covered with a heat shrunk insulation.
The image on the right shows the crimped connection prior to the heat shrink insulation being applied.
This is the ONLY CPSC approved repair but some connections still may be inaccessible.
Click on the link below for more information from the Consumer Products Safety Commission:
http://www.cpsc.gov/CPSCPUB/PUBS/516.pdf
To speak to a certified Colorado Home Inspector or to schedule a Home Inspection for your home, please contact Colorado Pro Inspect today. Evan J. Hughes is an InterNACHI Certified Colorado Home Inspector and will help you make an informed and educated decision on the purchase or sale of your new home.