Lead Testing Information
Denver, Boulder, Thornton, Arvada, Wheatridge & Surrounding Areas in Colorado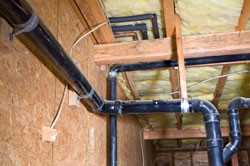 Lead in your home can cause serious health problems and should be corrected as soon as possible. Lead can be found in paint, dust, and even in the soil surrounding your home. In addition to being harmful to young children, once lead has entered the body, it can harm unborn children and can harm people in your home that look otherwise healthy.
A lead inspection in your house will determine if you or your family is at risk for the numerous health effects that lead can cause, both in children and adults. Some of the most common health problems lead can cause include:
Children's health problems caused by high lead levels:

Nervous system and brain damage
Headaches
Hearing Problems
Learning and behavior problems (such as A.D.D. and hyperactivity)
Slowed Growth

Adult health problems caused by high lead levels:

Digestive problems
Joint and muscle pain where lead in the body accumulates
Nervous system disorders
Sexual and reproductive problems
Difficulties during pregnancy
Concentration or memory problems
High blood pressure
If you have noticed any of these symptoms in you or your family members, you may be suffering from high levels of lead in your body. One of the ways you can determine if your home has high levels of lead is by scheduling a lead home inspection with a certified professional. Some of the most common ways lead enters the body is through everyday living in your home, such as:
Breathing lead dust
Ingesting lead paint chips or soil with pieces of lead paint
Absorbing lead while growing (especially common in small children)
Babies can often put their hands on things with lead dust on them, and then put those hands in their mouth, causing serious health problems
You may be wondering how you can tell if your home is more or less likely to contain lead. In general, the older your home, the more likely it is that it has lead paint. Many homes manufactured before 1978 had lead paint, one of the biggest sources of lead in homes. Some of the most common sources of lead in and around homes include:
Soil around the home can pick up lead from older exterior paint or old gasoline
Dust within your home may contain lead if the paint within your house is older or deteriorating
Drinking water within many older homes may have lead from older pipes made with lead
Older furniture or toys may have been manufactured with lead
If you currently work with lead at your job you could be bringing lead dust or fragments home with you on your clothing
In-home hobbies such as pottery or staining glass often have associated products that contain lead
Any older, lead-based paint that is peeling, cracking, or chipping should be immediately corrected
The best way to determine if your home has high levels of lead in it is by scheduling a home lead inspection. Some home lead inspection can be performed in two ways:
Lead Paint Inspection – Each types of paint within your home is tested to determine if it contains any lead; this type of inspection does not determine how hazardous the paint may be or what actions you should take to correct the problem
Risk Assessment Lead Inspection – This type of lead inspection evaluates any possible sources of lead, whether it is lead pain or lead dust, and informs you of just how hazardous the lead in your home is and what you should do to correct your lead problem
If you believe your home may be at risk for lead, it is important that certified professionals conduct the lead inspection of your home. Professional lead inspection teams can perform:
Visual inspections of the paint condition and location in your home
Surface dust sampling and testing
Laboratory tests of the paint within your home
To speak to a certified Colorado Home Inspector or to schedule a Home Inspection for your home, please contact Colorado Pro Inspect today. Evan J. Hughes is an InterNACHI Certified Colorado Home Inspector and will help you make an informed and educated decision on the purchase or sale of your new home.